Zepto app, a 10-minute grocery delivery app backed by Y-Combinator, was founded by 19-year-old Aadit Palicha and Kaivalya Vohra, Standford dropouts. They spotted execution errors in existing grocery delivery apps. By application of design thinking, they built unique and innovative business ideas.
To perform delivery within 10 minutes, Zepto needed to work on packaging techniques and, a short delivery time. They brainstormed the unique idea of setting up dark stores. The 10-minute food delivery app operates and uses an inventory model, which delivers groceries from its own micro-warehouses in the neighbourhood. 
The dark store is a term for retail grocery stores whose only purpose is the fulfilment of last-mile pickup and delivery orders. These stores are typically located within the last few miles of the customer. Smaller than a typical grocery store, and stock a lower variety of products in exchange for sub-hour delivery times. 
How does Zepto Operate?
The delivery app has more than 100 dark stores or micro fulfilment centres spread across Mumbai, Bengaluru, and Delhi. Also, planning to expand operations in Kolkata, Pune, Hyderabad, and Chennai. Dark stores have helped the startup to penetrate deeper into the cities struggling with traffic congestion.
The concept of dark stores is not new, similar stores exist in countries having a larger economy. But the challenge with starting operations in India was the chaotic traffic, connectivity, and volume of orders. Yet, Zepto managed to resolve these issues by installing dark stores at strategic locations.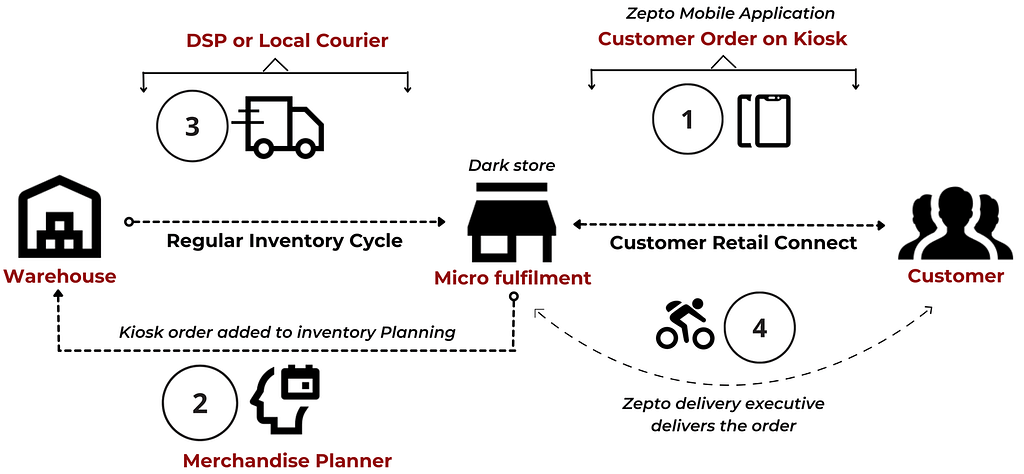 The delivery app every day works toward minimizing packaging timing. So, they take the help of Data Analytics and AI. Technology helps the delivery agent in locating the nearest dark store in the vicinity of the customer and determine the shortest route within the store to reach that product. Working together, they minimize the operation time and hence delivery the order in record time.
Estimate Time of Delivery Calculation
At present, the delivery app has an average delivery time of 8 minutes and 40 seconds. usually does not put a limit on the number of products a user can order. Delivery time increases depending on order size and the distance between the delivery location and their dark stores.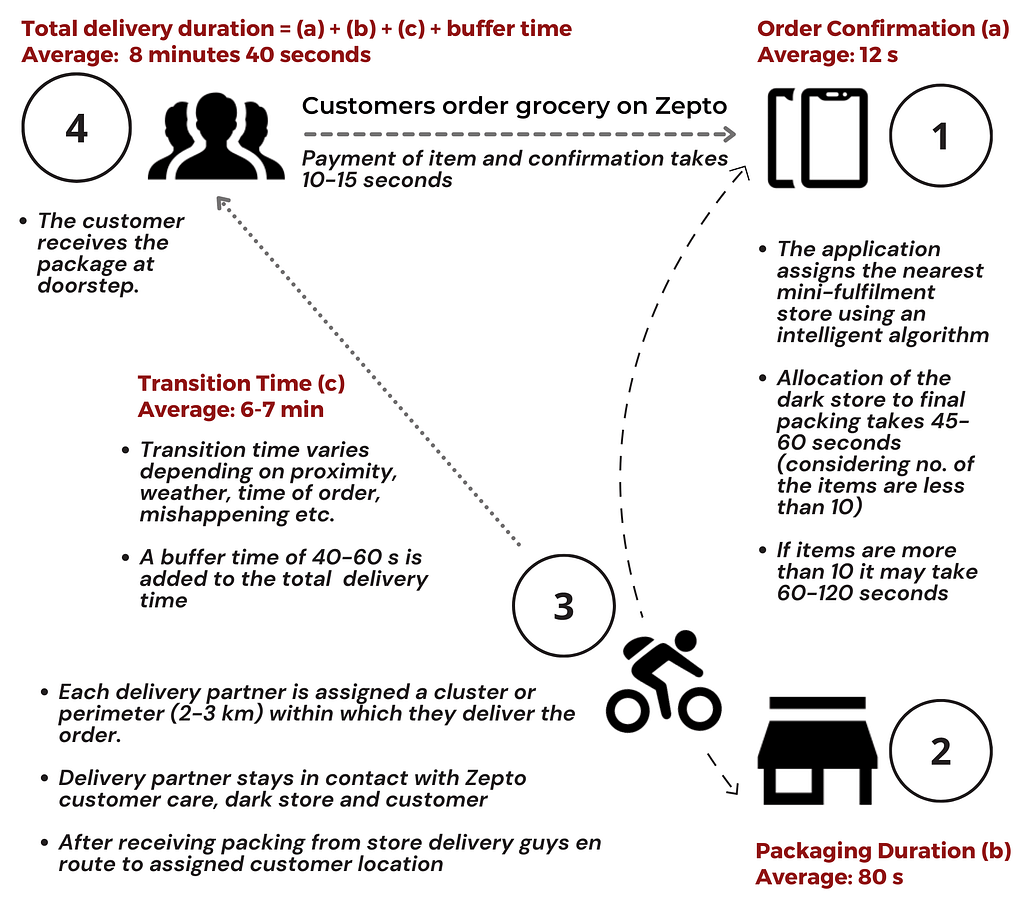 For smooth operation, the delivery app hires delivery executives on a salary basis. They must work for 10 hours; they do not have to travel much, and they get incentives on their salary as well. This seems a good deal. Also, keep the attrition rate low.
Today, Instamart, Blinkit and Big Basket also do the same thing, yet Zepto is more effective. This is because they have dark stores which are 2000-3000 sq. ft area which stores 3000-3500 products. But Zepto's dark stores are less than 1000 sq. ft area, which reduces their expense. Also, they keep max. 1000 users' preferred products.
To sum up, Zepto is on a path of robust growth. Till now, they have raised a total of 161 million dollars. They have built a solid foundation for users' last-mile experience.
If you're looking for a career counselling service, reach out at [email protected] or reach out in the comment section below.