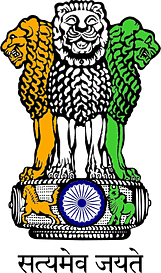 Before getting into details, let's understand the history of UPSC CSE, the Civil Services Examination is based on the British era Imperial Civil Service. ICS was the elite higher civil service of the British Empire in British India during British rule in the period between 1858 and 1947. Warren Hastings laid the foundation of civil service and Charles Cornwallis reformed, modernised, and rationalised it. Hence, Charles Cornwallis is known as 'the father of civil service in India'. Until the 1930s the Indians in the service were very few and were not given high posts by the British. At the time of the birth of India and Pakistan in 1947, the outgoing Government of India's ICS was divided between India and Pakistan.
Although these are now organised differently, the contemporary UPSC Civil Services of India, the Central Superior Services of Pakistan, Bangladesh Civil Service and Myanmar Civil Service are all descended from the old Indian Civil Service. Interestingly, civil services were popular during old Indian empires such as the Mauryan Empire and the Mughal Empire.
Today, the standard of UPSC Civil Service Examination has reached another level and it is considered to be one of the most difficult examinations in the world. The reason why this examination is so brutal can be derived from its selection rate, every year lakhs of candidates appear in that exam and only a handful of 0.1% of the total candidate get recommend. The limited no. of seats, the exhausting examination cycle and uncertainty make the situation dicier. However, every year few hundreds of aspirants qualify for this examination to get into prestigious services.
Attempts Count: The number of attempts in the UPSC Civil Service examination is up to 5 times for general category students, OBC students can avail 9 attempts and SC/ST candidates can give unlimited attempts till the age of 37 years. One needs to be cautious that appearing to attempt one of the papers in the preliminary examination is counted as an attempt, including disqualification/cancellation of candidature. However, applying to sit the exam but failing to attend is not counted as an attempt.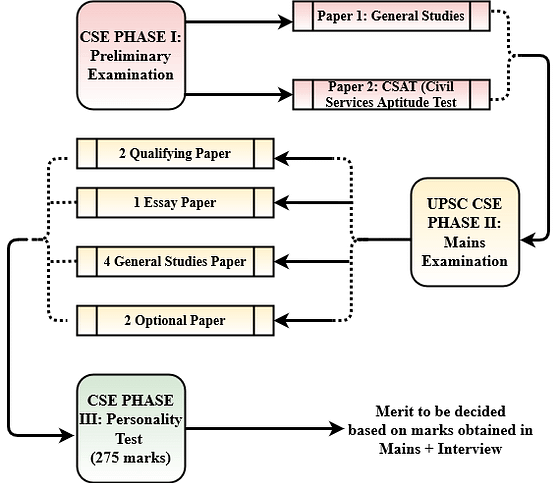 The UPSC CSE examination pattern has gone through frequent changes in the last two decades. Currently, the examination cycle follows a three-tier admission cycle of which one is qualifying in nature.
In order to get into the service, a candidate needs to get through Preliminary Paper, which consists of two papers mainly, general studies and civil service aptitude test (Note: UPSC CSE preliminary examination is qualifying in nature) followed by Written Paper, which consist of a total of nine descriptive papers mainly, two compulsory language paper, one essay paper, four general studies papers and two papers for the optional subject and at the end Personal Interview or Personality Test, which is to gauge the candidate suitability for the job as a public servant.
Generally, the board member assesses not only a candidate's intellectual qualities but also social traits and interest in current affairs. Let's understand the whole process thorough follow chart.
If we go through the marks distribution, the mains exam holds 1750 marks and the personality test constitute 275 marks. Adding both we get 2025, the merit list of recommended candidates is prepared based on marks obtained in mains plus personal interview. The general perception among aspirants is that UPSC CSE is an exam to get into IAS, IPS, IRS or IFS, however, there are twenty-three odd services offered by USPC through CSE.
Recommended candidates are assigned services based on their order of merit and preferences choice mainly into;
GRADE A: Indian Administrative Service (IAS) Indian Police Service (IPS), Indian Foreign Service (IFS) Indian Audit and Accounts Service (IA&AS) Indian Civil Accounts Service (ICAS), Indian Corporate Law Service (ICLS) Indian Defence Accounts Service (IDAS) Indian Defence Estates Service (IDES)Indian Information Service (IIS) Indian Ordnance Factories Service (IOFS) Indian Postal Service (IPoS) Indian P&T Accounts and Finance Service (IP&TAFS) Indian Railway Accounts Service (IRAS), Indian Railway Personnel Service (IRPS), Indian Railway Protection Force Service (IRPFS), Indian Railway Traffic Service (IRTS), Indian Revenue Service (IRS-IT), Indian Revenue Service (IRS-C&CE), Indian Trade Service (ITrS),
GRADE B: Armed Forces Headquarters Civil Services (AFHCS), Delhi, Andaman and Nicobar Islands Civil Service, (DANICS) Delhi, Andaman and Nicobar Islands Police Service (DANIPS) Pondicherry Civil Service (PCS) Pondicherry Police Service (PPS).
It generally takes 2-3 years of rigorous study to get into the service. Some aspirant starts preparation for UPSC exams right from the school days. The unpredictable nature of the examination and limited seats makes selection tedious work. It's been advised to have a backup plan or you will be trapped in the endless circle of examination wasting years after years if a candidate couldn't make it to the list after two serious attempts.
As rightly said, the UPSC CSE Exam is an 80-20 game, where 80% is sheer hard work and 20% is pure luck. For more details reach out in the comment section. Don't forget to subscribe to out newsletter for regular educational updates.