If you're looking for a career in Product Management, one of the crucial roles of a Product Manager is to come up with a Minimum Viable Product (MVP).
Before finalising the product design for the prototyping phase, designers work on building a rough sketch called 'wireframes'.
Wireframing is a practice used by UX designers which allows them to define and plan the information hierarchy of their design for a website, app, or product. This process focuses on how the designer or client wants the user to process the information on a site, based on the user research already performed by the UX design team. Traditionally, the wireframe design is framed through pen and paper mode, outlining all the basic elements of the product.
Apart from just drawing on paper, there are stacks of free wireframing tools which are available online, you can experiment around and check what suits your requirement. Some of the most popular tools are; Figma, Adobe XD, Sketch, UXPin, InVision, Wireframe, Justinmind and Mockplus.
Here are the 6 steps to creating an effective wireframe:
Step 1: Research thoroughly: Wireframing isn't the initial stage in the user experience design process. Before you pick up a pen and paper, you must first complete the first two processes, which include conducting user research, outlining requirements, establishing user personas, identifying use cases, and supplementing this with additional competition and industry research. What exactly does that imply? This entails researching similar product lines to yours, researching current UX trends and best practices, and, of course, checking your own internal design requirements.
Step 2: Prepare a quick reference sheet: You should keep all those processes which will be part of the process in mind while you create your wireframes. If you're a mere mortal, you could find it difficult to remember everything, so make a cheat sheet with your company and user goals, personas, use cases, and possibly some reminders of the best features you discovered throughout your rival research. A few quotes from your target audience could also help you focus on the user experience, which is, after all, what you're building!
Step 3: User flow mapped out precisely: If you don't know how many screens you'll need to create and the flow you anticipate the user to follow, your wireframing will rapidly become a muddle. It's critical to have a clear understanding of where your consumers will come from (which marketing channel, for example, and what messaging), as well as where you want them to go. Your mental voice will alternatively shout "user flows" and "information architecture" if you're already familiar with UX terminology.
Step 4: Form a sketch, don't illustrate: After finishing the first three critical steps, now we can move ahead with putting wires on our wireframes. At this moment, aesthetics isn't our priority and we will focus more on drawing the basic structure. The idea is to delineate the wireframe with functional blocks, that will form the basic skeleton of your product design. After finishing with the skeleton design, now, you can engage more people on the project to make it more user-centric, fulfilling the need and requirements of the user.
Step 5: Add detailing and finalize: The next stage is to add some informational details to your wireframe so that it can be upgraded to the prototype phase, Megatron-style. Now, at this stage, we should have a wireframe ready for the first testing phase before moving ahead with the prototyping.
Step 6: Wireframe into Prototype: At this stage, you can begin constructing high-fidelity prototypes once you've documented and acted on the feedback from your first prototype. You can import your product design wireframes into the industry-leading prototype tool after you've created them in the sketch. The final stage is to add muscle to the skeleton and finalize the product which will the tested by the user based on functionality. Extra caution should be taken at this stage, as a designer your priority should be to give out user-friendly products. An effective wireframe is complete.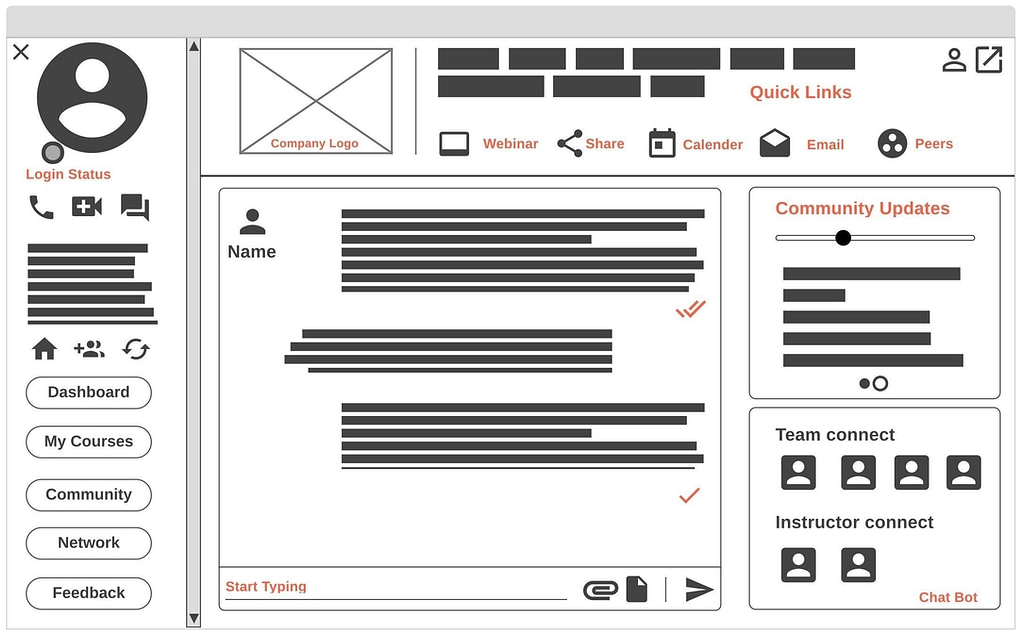 In a nutshell, for creating an effective wireframe, the brainstorming part is more important than just drawing a product on paper. For that, you'll need clarity about the product and simplicity under check.
In case of any queries reach out in the comment section. For more details on career counselling sessions reach out at [email protected]